The spot price of Brent Crude reached USD69.56 per barrel in early morning trading Monday, largely in response to a rapid rise in tension between the United States and Iran following the US assassination of Iranian general Qassem Suleimani, leading to subsequent threats of retaliation and counter-retaliation from both countries.
In a recent research note, Bell, Emirates NBD's lead commodity analyst, said the bank's expectation for Q1 was still for benchmark prices to decline amidst a broader inventory build-up.
"We maintain our view for Brent prices to average USD 59/b this quarter and WTI at USD 57/b although we did note in our Oil 2020 Outlook that unplanned outages as a result of geopolitical tension posed an upside risk to prices," Bell explained. "The risk of prolonged tensions between the US and Iran, with the potential for escalation, will act like the US-China trade war in reverse: as markets are wary that further attacks could be forthcoming, prices may have an upside bias in the short-term."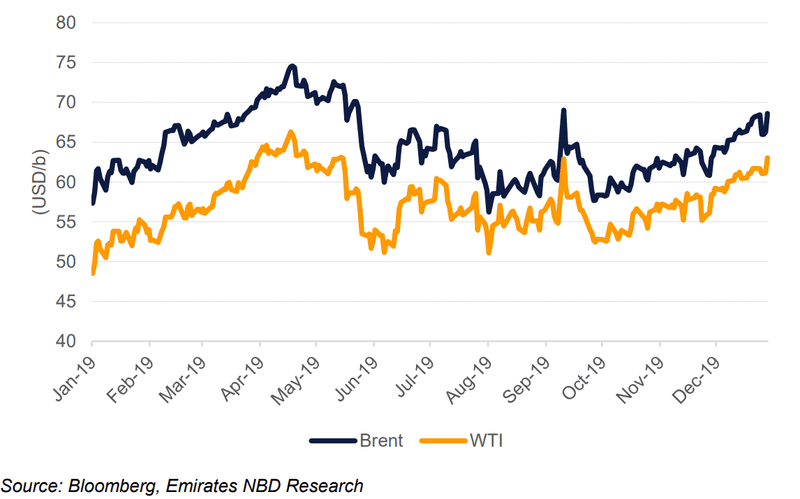 But beyond spot prices, the reaction in oil markets to a rapid escalation in geopolitical tensions has been relatively measured to date.
"Freight costs for taking a VLCC from the Gulf to Singapore were little changed while the spread of Brent over Dubai—a gauge for the relative scarcity of either crude—held steady at around USD 2.50b/. Forward curves for benchmarks strengthened in the first few trading days of 2020: Dec spreads for 2020/21 in both Brent and WTI are above USD 4/b in backwardation while near-dated time spreads are holding around recent levels of USD 0.23/b in WTI and USD 0.84/b for Brent in the 1-2 month spread."
Companies mentioned in this article