Sri Lankan authorities introduced new tax stimulus measures this month which appear to reverse the country's fiscal consolidation trajectory. They include nearly halving the VAT from 15% to 8%, the removal of the 2% Nation Building Tax, and an increase in the tax-free turnover threshold for VAT.
S&P estimates that overall impact of the tax measures could widen the fiscal deficit by an additional 0.8-1.0% of GDP in 2020 despite an anticipated acceleration in growth. The rating agency expects Sri Lankan GDP to rise by 4% in 2020, above the 2.7% seen in 2019.
In a note to investors, ING EM sovereign debt strategist Trieu Pham says spreads remain vulnerable despite supportive market conditions.
"With a debt/GDP and interest/revenues at c.83% and 46%, respectively, Sri Lanka's fiscal balance sheet is already stretched. Moreover, with almost half of total public debt denominated in FX and USD19bn of external debt coming due between 2020 and 2023, this leaves Sri Lanka vulnerable to investor sentiment and currency depreciation."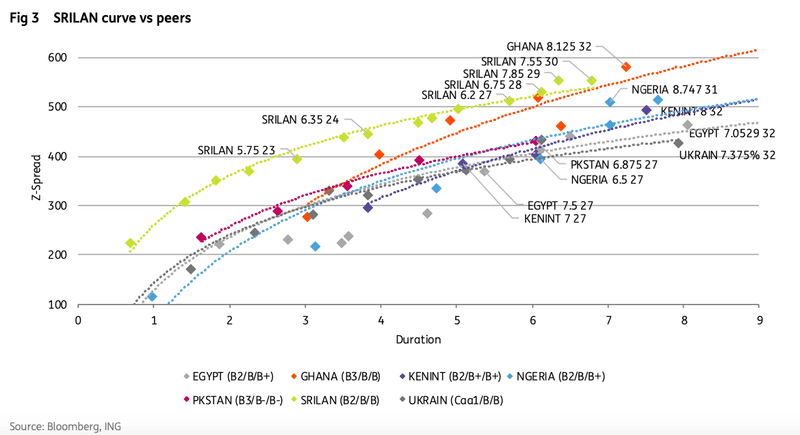 Pham still believes investment sentiment could respond well to a Sri Lanka Peoples' Front (SLPP) victory at the forthcoming parliamentary elections later this quarter, which would effectively put the legislative agenda "under one roof," but nevertheless highlighted concerns with fundamentals over the medium to long-term.
"In our outlook [following the presidential election], we highlighted room for SRILAN bonds to temporarily reverse the excessive widening following the announcement of the tax measures, highlighting the excessive pick-up vs PKSTAN as an additional anchor. While we have since seen a spread compression… the ongoing supportive market backdrop and the still existing pick-up vs peers could support spreads in the near-term."
"However, we are little optimistic on the fundamental story further down the line as fiscal stimulus and uncertainty about the passing of the Monetary Law Act pose risks for the sovereign rating and raise concerns with the IMF. We highlighted that the relationship with the IMF remains key beyond the end of the EFF in June due to the external vulnerabilities. A protracted seventh review of the EFF also seems likely."