MUFG analysts are sceptical about prospects of a quick resolution to the trade stand-off, noting that after three years of stalemate and increasing weaponization of bilateral tariffs, most international companies have reluctantly accepted the fact that there is a need to develop "supply chain flexibility" beyond China.

With regards to the seemingly imminent agreement on the Phase 1 of the negotiations, they point out that the much-touted commitments of China to buy USD40-50bn of agricultural goods from the US could be subject to supply side constraints, and question whether signing the initial agreement will lead to any tangible progress.
"As we have written before, disagreements, before phase 1 imply disagreements after phase 1, and that's not even discussing, phase 1 as a DINO (Deal In Name Only)."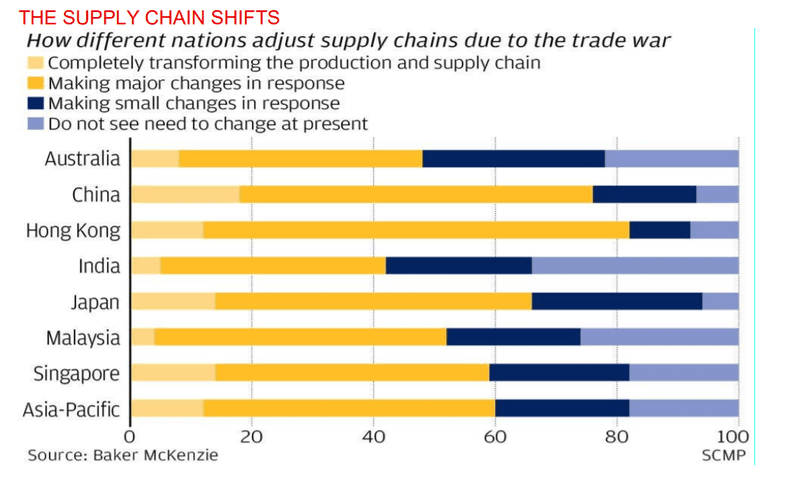 Furthermore, they see no reason for the Trump administration to stop at China even if a tentative deal is reached, with Europe, Taiwan and other partners potentially next in the line of fire. As a result, they believe the market will see a shift away from China, noting that the process will "start big and get bigger", while also presenting a host of challenges.
"The intricacy of the global supply chain means if one major line at a global, MNC shifts, 100 suppliers will shift. So if it's only 10 major MNCs in 2020, we are thinking about 1,000 companies. Initially MNCs will be tight-lipped about this, for fear of offending either governments in China or in the US or in both."

"Shifting from China to Mexico means moving from a far higher value-added exporting economy to a lower one. You go to a less efficient place, it costs you more to do so. Replicated 10,000 times, costlier production reduces potential growth, and either profit margin shrinks or consumers pay higher prices."
Companies mentioned in this article