In a note to clients, Joseph Incalcaterra and Maitreyi Das explain that while growth has been softer than expected in 2019 – with growth weighed down by low commodity prices and a slowdown in consumption – 2020 should see a stabilisation, with growth forecast to reach 5%, and 5.2% in 2021, driven mainly by infrastructure spending in the near term following the re-election of President Joko Widodo.
"We believe fixed investment will be the primary growth driver in 2020. Infrastructure spending is likely to increase as much as 30% from realized 2019 levels, and we estimate that as much as IDR650bn (c4% of GDP) in large-scale priority projects, including two massive oil refineries, are set to start construction in 2020. Additionally, Indonesia will start construction of a new capital city starting in 2021 at a cost of at least USD33bn. This will reinforce an already substantial pipeline of projects, and result in a prolonged multi-year investment cycle that will support growth."
"However, for a more robust medium-term growth profile, an acceleration in reforms to attract more FDI is essential."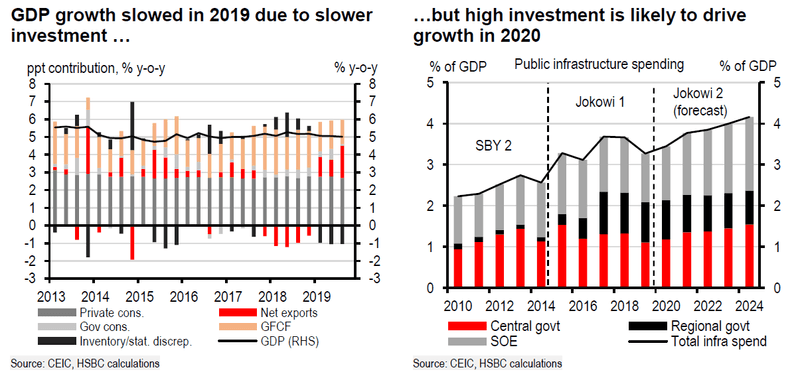 On risks to growth, the HSBC economists highlighted the impact of large-scale infrastructure projects on the current accounts, which could further eat into the Central Bank's capacity to ease rates further.
"There are risks to be mindful of in 2020. Due to the import-intensive nature of upcoming infrastructure projects, we expect capital goods imports to pick up sharply in 2020. This will likely result in a marginally wider current account deficit of 2.8% in 2020 and 2.9% in 2021 (2019f: 2.7%), offsetting improvement stemming from relatively subdued private consumption, lower oil prices, progress in using domestic biofuel, and improvement in the iron and steel trade balance."
"The historically-wide current account deficit will limit the total amount of easing Bank Indonesia can deliver."
Companies mentioned in this article