The Dubai government announced a strongly expansionary 2020 budget that includes a 17% year on year increase in spending, a substantial rise by comparison with the flat expenditure growth last year.
The move is to be driven almost entirely by increases in wages (rising 9% year on year) and other current administrative expenditures including grants and financial support programmes (rising 31% year on year) as the authorities look to find ways of kick-starting consumption and boosting the economy.
Infrastructure spending, meanwhile, is set to decline for a second consecutive year, and is expected to drop 13% year on year – after a 22% cut last year.
In a note to clients, Mohamed Abu Basha, lead MENA economist at EFG Hermes said the sharp decline in investment is largely expected with key projects ahead of Expo 2020 reaching their final completion phases.
"Indeed, project awards in the Emirate have been on the decline in the past couple of years, falling 43% Y-o-Y in 2019, having already declined 22% Y-o-Y in 2018. As such, the strong fiscal stimulus is of a relatively lower quality than in previous years, in our view."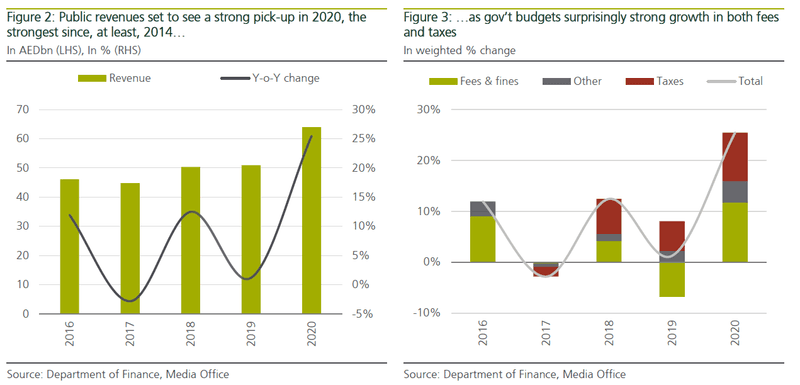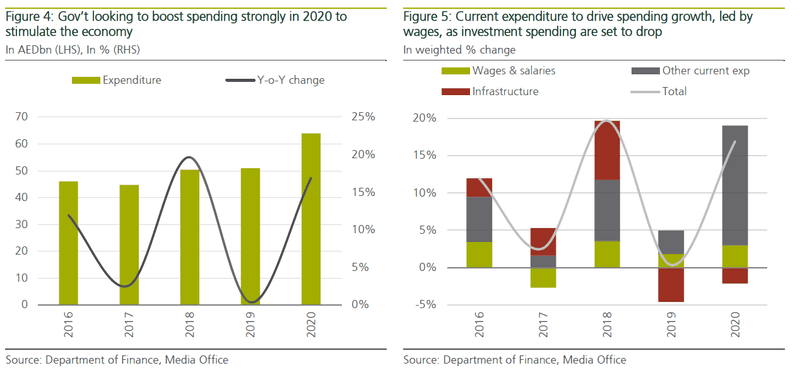 Abu Basha said the budget should help narrow the fiscal deficit through improved revenue growth, higher fees, and higher intake from VAT, with government revenues estimated to jump an impressive 25% year on year to AED64bn – but cautioned that it was unclear how Dubai's authorities would generate such a sharp rise.
"The gov't provided no explanation for such rapid growth in revenues, which it said comes despite "the economic incentive measures adopted by the gov't that would reduce some fees and freeze the increase in fees for three years, and the decision to not impose any new fees without providing a new service." Nevertheless, the gov't is budgeting for a surprising 18% Y-o-Y growth in fees, which is in stark contrast to this item's drop in the past two years."
Companies mentioned in this article