China's momentous economic growth begins to cool as a number of headwinds percolate – most notably the ongoing trade war with the United States, alongside a rise in corporate defaults, have chipped away at the country's exceptional growth.
The recent 'Phase One' agreement, which has brought about a partial de-escalation to the trade war, has resulted in the cancellation of further US tariffs against Chinese imports which were due to be implemented in mid-December.
"If the US and China had failed to reach a phase one deal, the weighted average US tariff on goods from China would have increased by another 5ppt to 23% from 15 December."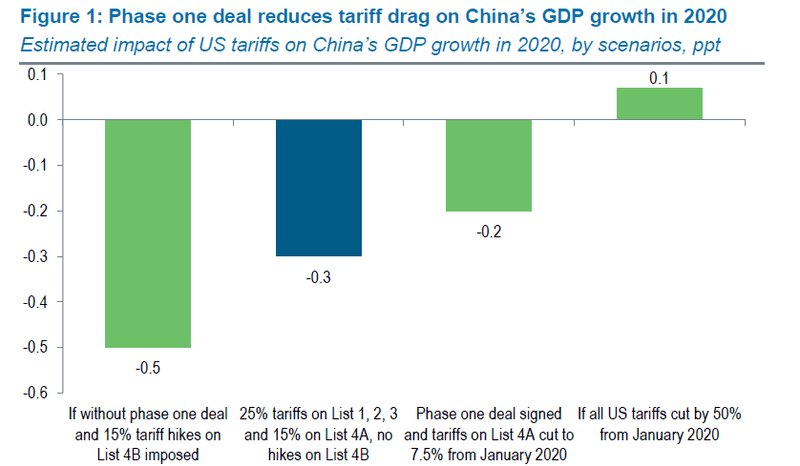 China – 'Phase one' deal reduces tariff drag in 2020
The phase one deal appears to benefit both sides: for the US, it is likely to bolster Trump's hopes of re-election, whilst it sets China back on course to reach its goal of doubling the size of the real economy from 2010-2020.
"The phase one deal contains nine chapters on the subjects of intellectual property, technology transfer, agriculture financial services, currency, and expanding trade and dispute resolution, according to a statementfrom the US Trade Representative office. On signing the deal… the US will maintain 25% tariffs on USD250bn of China imports, and 7.5% tariffs (down from 15%) on USD120bn of goods."
The report notes that the US-China relationship remains a long-term risk to the global economy, in spite of recent positive noises surrounding a trade deal.
"If Trump is re-elected, he may be less concerned about the economy and the stock market in his second term, and more interested in cementing his legacy as a China hawk."
Companies mentioned in this article