After spending much of 2019 struggling to contain a trade war with the United States, Chinese economic data surprised on the upside across a number of indicators in the fourth quarter. Consumer spending, industrial production and investment all ended 2019 on a stronger note and with improving sentiment, according to Refinitiv data compiled by National Bank of Kuwait.
Fixed asset investment increased 5.4% compared with the same period last year, industrial production grew 6.9% year on year, and retail sales rose 8%, all beating consensus estimates.
Macro-stabilisation was owed in part to a series of interventions on behalf of the central bank. The People's Bank of China has cut the reverse repo rate six times since early 2018 in a bid to boost lending and stimulate growth.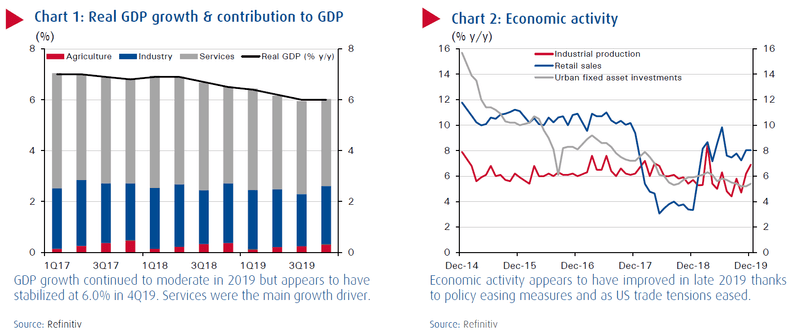 Trade is also seen to be improving. China reported USD46.8bn trade surplus in December, an increase relative to November figures (USD37.6bn) – mainly attributed to growth in exports to Asian countries.
China's economic stabilisation is seen as a positive for emerging markets, which depend heavily on the country's substantial commodities demand.
Last week, China and the US agreed to Phase 1 of a trade deal that would see China agree among other things to buy an additional UDS200bn of American goods over the next two years and saw both sides commit to ceasing the introduction of new tariffs. Most previously announced tariffs will remain in place until the next phase of a trade deal is agreed between the two nations.