Armenia's positive story has continued through 2019, displaying "remarkable economic growth" and an impressive 4% rise in domestic credit, according to credit ratings agency RAEX. Domestic credit provided by the financial sector to GDP is expected to have risen by 4% in 2019, up to 67%, as total loans grew by 13% since the beginning of the year.
This is mostly related to the household sector (increase of 27%) and not to the corporate sector, which contributes to production and growth of the real economy. But improving macro dynamics have been supportive of the growth in credit.
"Economic activity remained strong during 3Q 2019, driven by solid private consumption and investment, mainly in the construction sector. Estimated real GDP growth for 2019 stood at 6-7%, the highest in the Caucasus region (see graph 1)."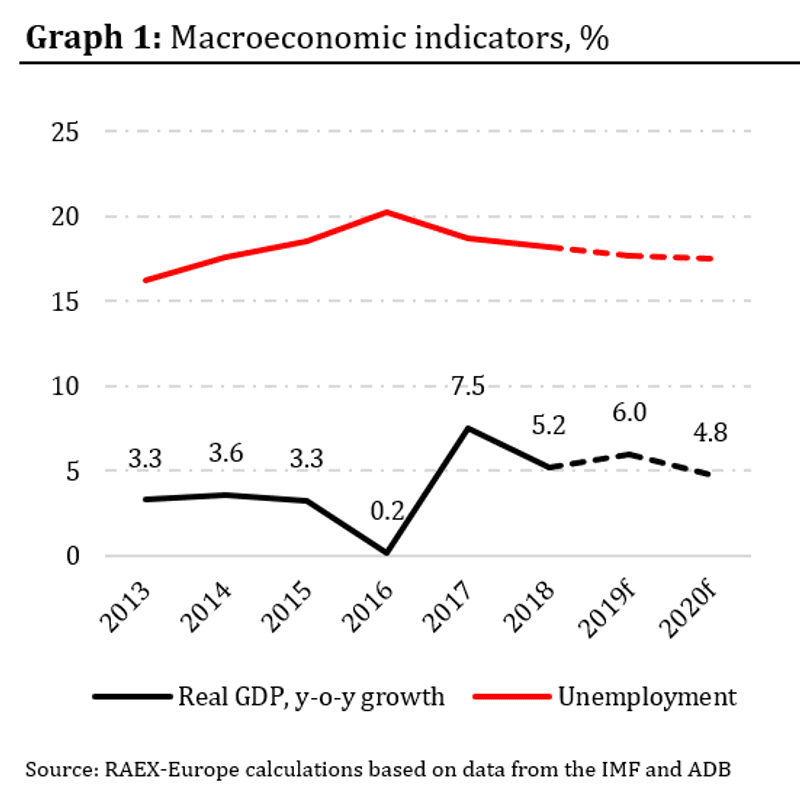 Likewise, there were positive dynamics on the fiscal consolidation front, as the budget deficit narrowed to 1.5% of GDP, 0.7% inside the government's target, mostly on the back of the higher VAT revenues and lower than expected capital expenditure. Overall government debt nearly hit the 50% target set by the government at the start of 2018, when the fiscal rule was introduced. According to government forecasts, it will be close to 51% of GDP, or 212% of annual budget revenues, when the latest data is published.
The structure of the public debt continues to be stable,According to government forecasts, RAEX points out.
"As of November 2019, short-term debt accounted for 4,6% of total debt, 15% had floating interest rate and FX-denominated debt remained elevated at 78,6%; nevertheless, this type of debt remains mostly concessional."
The 10-year USD-denominated Eurobond issued by the government in September 2019 has a yield spread of around 2.3% against US bonds with the same maturity, reflecting relatively low risk.